Journey with your church toward the good works that God has for us to do through what we are calling the Freedom Project, as we take a step toward our vision 'To see the world awakened to the wonder of God and His Transcultural Church.' Join us as we find freedom in Christ in every area of our lives, and cultivate freedom for others in Jesus' name.
Our Values
Renovation Church is committed to living out its values of being:
Freedom For Others
One of the ways we live out our value of being Socially Conscious is by following in the footsteps of our forefather in faith, Abraham, and living as a church that "blesses all the families of earth." With that in mind, Renovation has a 10-year vision that focuses on transforming our physical site into a center for human flourishing. Though it seems we are a long way from that, the vision is clear and the opportunity is now. After years of neglect from previous owners, we purchased a new home in need of much repair, but we believe that God will "supply every need of (ours) according to his riches in glory in Christ Jesus."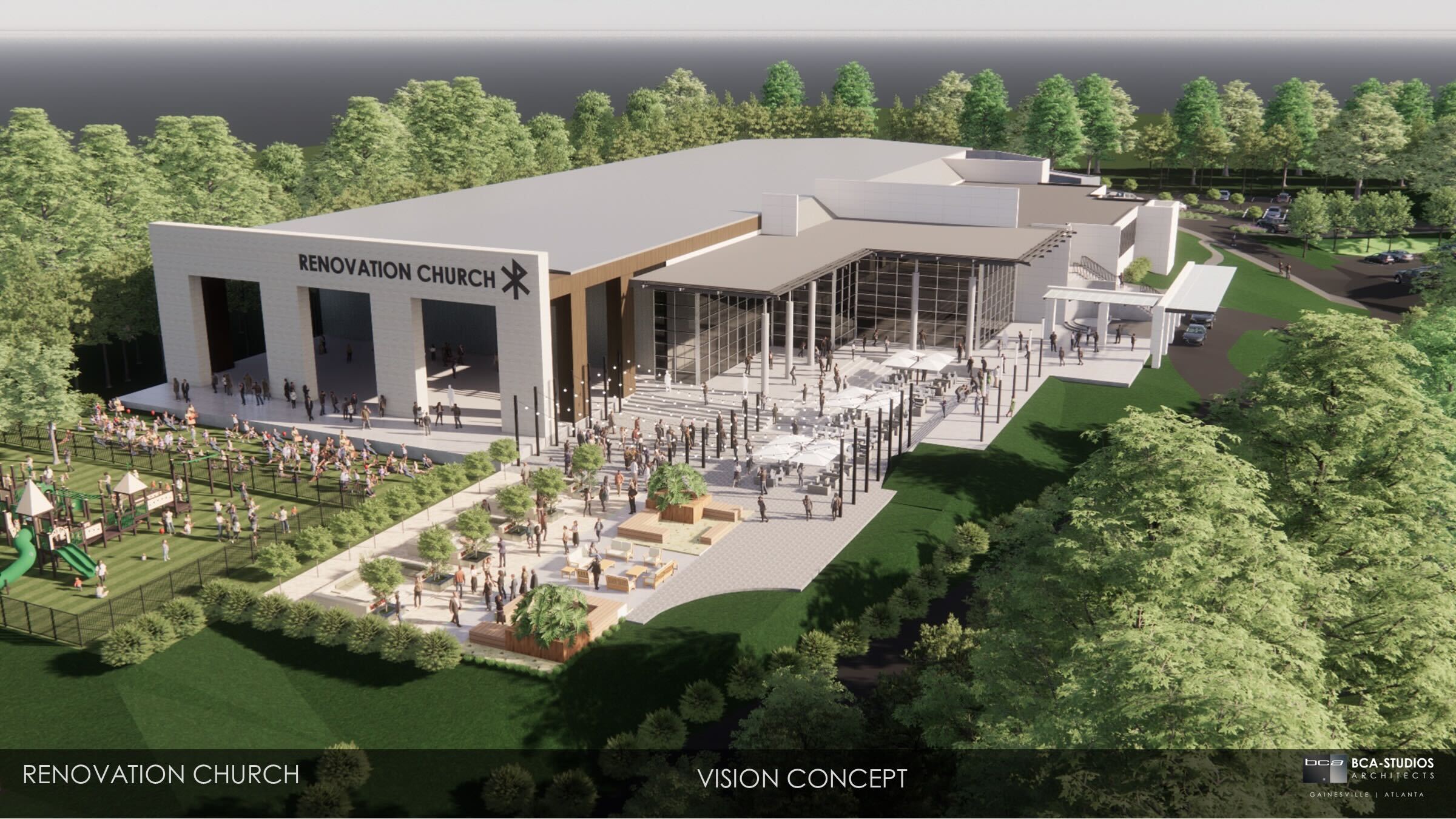 Renovating Our Home
This phase of our plan involves developing the front face of our church building along with an outdoor space for the community around us, and our church family, to have a place to gather and play. The front of our building serves as the introduction to our building to newcomers; and we have a vision of that introduction being as welcoming as the smiles of our Ambassador team members.  The outdoor space will provide two soccer fields, a basketball field, and a playground, for the use and flourishing of our neighbors.
Pray to the Lord and ask him how you might honor him with the 'first fruits of all your produce' (Proverbs 3:9). Then, listen and wait silently for the Lord to respond. 
Talk, if single, about how to give with friends or mentors. If married, discuss giving with your spouse and your family. If you've never given before, now is a great time to reach out to Renovation (see contact info below); we would be glad to walk through your giving journey with you. "In abundance of counselors there is victory" (Proverbs 24:6).
Believe in God's many promises to those who give to Him. Here are just a few:
"For you barns will be filled with plenty, and your vats will be bursting with wine." (Proverbs 3:10)

"I will open up the windows of heaven for you and pour down for you a blessing until there is no more need." (Malachi 3:10)

"My God is able to supply ever need of yours according to his riches in glory in Christ Jesus" (Phil. 4:19)

"But seek first the kingdom of God and his righteousness and all these things will be added to you." (Matthew 6:33)

"He who did not spare his own Son, but gave him up for us all, how will he not with him graciously give us all things?" (Romans 8:32)